Ball Mill Introduction
Ball mill, a type of Grinding Mill, is a cylindrical device used to grind (or mix) materials like ores, chemicals, ceramic raw materials and paints. The ball mill is a key equipment to grind the crushed materials after the material were broken , and carrying on the smashing again. It is divided into two rubbing way-the dry and the wet . Ball mill is mainly composed of charging and discharging, cyclone and rotation parts (like redactor, minor rotation gear, motor, electric machine, etc). Hollow axis is made of steel parts with a lining replacable. Major rotation gear, machined by rolling wheel of casting, is lined with wearing plate with fine wear-resisting property. This machine runs stably and reliably. Ball mills rotate around a horizontal axis, partially filled with the material to be ground plus the grinding medium. Different materials are used for media, including ceramic balls, flint pebbles and stainless steel balls.
Ball Mill Application
Ball mill is widely used in powder-making production line including cement industry, chemical industry, new building materials, fire-resistant materials, fertilizer, porcelain and glass industry for grinding iron ore, gold ore, concrete, slag, zinc, copper ore, tantalite, etc.The ball mill carries on the dry type or the wet powder to each kind of ore and other grindability material rubs
Features and Advantages:
1.Large application range, simple structure and convenient maintenance.
2.Large capacity and continuous work are very obvious.
3.Barrel lining and grinding media can apply various abrasive materials.
4.Installation and adjustment are very convenient and easy to be operated.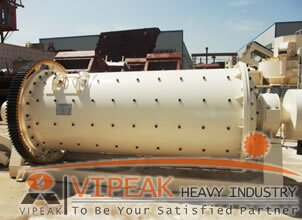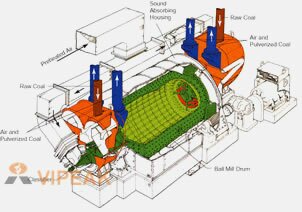 Working principle of ball mill :
Materials shall be evenly charged through quill shaft in feeding device into the first bin, which has step or waved lining with steel balls in different specifications. Steel balls are taken to a certain height by centrifugal force from drum rotation and then fall. Thus it will give a heavy blow to materials, playing a role of grinding. Materials after crushed in the first bin shall enter bin across single-layer diaphragm into the second, which is provided with flat lining with steel balls, to go through further grinding. Powder shall be discharged from discharging grating, ending the milling process.
Thanks for your interesting in our product Ball Mill. There are more than 10 Models of Ball Mill in our company, and the detailed specifications are as follows. If you have any question, please don't hesitate to contact us, we will provide you professional solutions.
Specification of Ball Mill:
Model
Rotary Speed
(r/min)
balls weight(t)
The feeding size
(mm)
The finalsize
(mm)
Capacity
(t/h)
Main Motor
(kw)
Weight
(t)
Ф900×1800
36-38
1.5
≤20
0.075-0.89
0.65-2
18.5
3.6~4.3
Ф900×2400
36.4
2.1
≤20
0.075-0.89
0.65-3
18.5
4~4.8
Ф900×3000
36
2.7
≤20
0.075-0.89
1.1-3.5
22
4.6~5.3
Ф900×3500
36
2.7
≤20
0.075-0.89
1.1-3.8
22
5.2~5.8
Ф1200×1200
36
1.5
≤25
0.075-0.6
1.2-3
22
8.5
Ф1200×2400
36
3
≤25
0.075-0.6
1.5-4.8
30
11.4
Ф1200×3000
36
3.5
≤25
0.075-0.4
1.6-5
37
12.1
Ф1200×3500
32.4
5
≤25
0.075-0.4
1.6-5.2
55
12.7
Ф1200×4500
32.4
5
≤25
0.075-0.4
1.6-5.8
55
13.1
Ф1500×3000
29.7
7.5
≤25
0.075-0.4
2-5
75
14.8
Ф1500×3500
29
9
≤25
0.075-0.4
2-6
95
15.8
Ф1500×4000
29
10
≤25
0.075-0.4
3-7
110
17.9
Ф1500×4500
27
11
≤25
0.075-0.4
3-8
110
19.9
Ф1500×5700
28
12
≤25
0.075-0.4
3.5-8.5
130
23.4
Ф1500×6400
28
16
≤25
0.075-0.4
3.5-9
155
25.4
Ф1830×2400
25.4
10
≤25
0.075-0.4
4-10
130
23.7
Ф1830×3000
25.4
11
≤25
0.075-0.4
4-10
130
26.6
Ф1830×3600
25.4
13
≤25
0.075-0.4
4.1-10.5
130
27.6
Ф1830×4000
25.4
15
≤25
0.075-0.4
4.3-11
155
29.4
Ф1830×4500
25.4
15
≤25
0.075-0.4
4.5-12
155
30.4
Ф1830×6400
24.1
21
≤25
0.075-0.4
6.5-15
210
32.3
Ф1830×7000
24.1
23
≤25
0.075-0.4
7.5-17
245
34.2
Ф2100×3000
23.7
15
≤25
0.075-0.4
6.5-36
155
32.3
Ф2100×3600
23.7
18
≤25
0.075-0.4
6.5-38
210
33.8
Ф2100×4000
23.7
21
≤25
0.075-0.4
6.5-40
210
35
Ф2100×4500
23.7
24
≤25
0.075-0.4
8-43
245
40
Ф2100×7000
23.7
26
≤25
0.075-0.4
8-48
280
47.5
Ф2200×4500
21.5
27
≤25
0.075-0.4
9-45
280
46.5
Ф2200×5500
21
30
≤25
0.075-0.4
10-22
370
48.5
Ф2200×6500
21.7
35
≤25
0.075-0.4
14-26
380
50.2
Ф2200×7000
21.7
35
≤25
0.075-0.4
15-28
380
51.3
Ф2200×7500
21.7
35
≤25
0.075-0.4
15-30
380
53.2
Ф2400×3000
21
23
≤25
0.075-0.4
7-50
245
51.3
Ф2400×4500
21
30
≤25
0.075-0.4
8.5-60
320
61.7
Ф2700×2100
20.7
23
≤25
0.075-0.4
8.5-17
260
49
Ф2700×3600
20.7
37
≤25
0.075-0.4
11-27
400
79
Ф2700×4000
20.7
40
≤25
0.075-0.4
12-80
400
89
Ф2700×4500
20.7
48
≤25
0.075-0.4
12-90
430
97
Ф3200×3000
18.6
46
≤25
0.075-0.4
15.5-33
500
112
Ф3200×3600
18.6
56
≤25
0.075-0.4
17.5-40
630
118
Ф3200×4500
18
65
≤25
0.075-0.4
8.5-60
800
130.5
Ф3600×3900
17.8
75
≤25
0.075-0.4
25-53
1000
152.9
Ф3600×4500
17.8
88
≤25
0.075-0.4
29-65
1250
165
Ф3600×6000
17.8
117
≤25
0.075-0.4
35-80
800
196
Ф4000×5000
16.4
101
≤25
0.075-0.4
46-97
800
248