Impact Crusher is the most common equipment of the stone crushing production line , adopting the latest producing technology, features many advantages: special structural design,cubic shaped desired products, dealing with the material with the side length 500mm, not more than 350Mpa anti-pressure strength,Impact Crusher can be widely used in crushing the coarse, midium, and fine material(E,g.granite,limestone,concrete).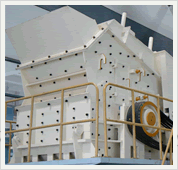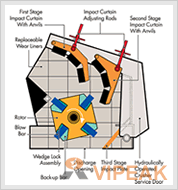 Working Principle of Impact Crusher:
When the Impact Crusher works, the motor drives the rotor rotate of the Impact Crusher with high speed, on the rotor where installed the hammers. When the materials get into the area which the hammers affect, under the impact function of the hammer at a high speed, the materials are thrown to the impact device above the rotor continuously. And then the materials are rebounded from the impact liner to the area where the hammers effects for being re-crushed. The materials from large to small all to be crushed at the impact chamber repeatedly. The process won't stop till the material are crushed to the required size and then discharged from outlet of the Impact Crusher.

Impact Crusher of Features:
High reduction rotors for all minerals and aggregates
Lesser fine compared to hammer mill.
Cubically shaped product
specification and technical parameter of Impact Crusher:

Specification and Technical Parameter of Impact Crusher:
Model
Specification (mm)
Feed Opening (mm)
Max. Feeding Size (mm)
Capacity (t/h)
Model of Motor
Power (kw)
Weight (t)
Overall Dimensions
(L×W×H) (mm)
PF-1007
Φ1000×700
400×730
300
35-50
Y250M-6
37
9.5
1800×1600×1800
PF-1010
Φ1000×1050
400×1080
350
50-80
Y315S-6
75
14
2340×2007×2500
PF-1210
Φ1250×1050
400×1080
350
70-120
Y315L1-6
110
17

2582×2053×2809

PF-1212
Φ1250×1200
400×1250
350
70-140
Y315L2-6
132
17.5

2582×2203×2809

PF-1214
Φ1250×1400
400×1430
350
80-160
Y315L2-6
132
22
2582×2403×2809
PF-1315
Φ1300×1500
860×1520
500
90-220
Y2-355M2-6
200
26
2930×2761×3053
Specification and Technical Parameter of Impact Crusher (Three Adjustments) :
Model
Specification (mm)
Feed Opening (mm)
Max. Feeding Size (mm)
Capacity (t/h)
Model of Motor
Power (kw)
Weight (t)
Overall Dimensions
(L×W×H) (mm)
PFV-1007
Φ1000×700
400×730
300
25-45
Y250M-6
55
10.5
1800×1600×1800
PFV-1010
Φ1000×1050
400×1080
350
35-60
Y315S-6
75
14.8
2340×2007×2500
PFV-1210
Φ1250×1050
400×1080
350
45-100
Y315L1-6
110
18
2582×2053×2809
PFV-1214
Φ1250×1400
400×1430
350
60-140
Y315L2-6
132
23.5
2582×2403×2809
PFV-1315
Φ1300×1500
860×1520
500
70-180
Y2-355M2-6
200
28
2930×2761×3053