Being a leading company in Industrial powder processing, Engineering Stone crushing and Construction Sand Making, Mining machinery manufacturers Vipeak Machinery Group Company is a high-tech mining machinery company in China. Our service has expanded to the entire world, almost including 75 countries. From Engineering Stone, Construction Sand to Engineering Powder, All Equipments from Vipeak exert great productivity and stability on working sites, make the customers satisfied.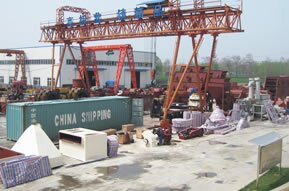 We strongly feel that customers do not only need equipments with good performance, but in the hope of their efficiency, their benefit and their competitive power.In order to create the value-added equipment standards for our customers, our company will not be complacent of having good product quality ,but be proud of helping our customer get more profits. We believe that the customer's needs is the direction of our efforts. We regard this as our rules. For this ,we will do our best.
Product
Our grinding equipments can meet the users' different fineness need,and also we have the whole specifications of sand making machine,crushing machine and screening machine. The most important is that no matter what you want to buy,a single set or the whole set equipment, we will give you turnkey project. Our company has already supplied thousands of equipments and proposals for our customers in mining industry, construction industry, power plant, hydraulic power plant and Expressway fields. With stable reliability and comprehensive efficiency, our equipments are very popular among our customers.
Technology
After being strictly trained by the professionals, in the spirit of service, Staff from VPEAK have made out the quality products in the world with professional management, cautious inspection, and rich experience. The engineers from Vipeak have the deep understanding about the production and the experienced knowledge about this field. Before purchasing the products, our engineer will visit the customers on site and communicate with them about the details, Offer all kinds of proposals and solutions.
Service
What Vipeak gives you is not the products only; it is the best solution, the timely and considerate service. We will never stop our service after we produce the qualified products. We have a service net to satisfy all the customers, and help our customers to get higher value from our equipments. We have professional Technicians and rich-experienced engineers on site. They care about the equipments of the customers and provide good, fast, and consummate after-sales service, technical support and full spare parts supply, which will keep the equipments and system in a good working condition.The moment when you decide to buy our products,we will be always with you,we will be a faithful partners of your cause,we will discuss with you on all your concerning questions, and then provide a solution. No matter when and where we are, we will try to provide the best solutions of after-sales service. The service is not only after, but before, before the problems occur, we will do more to avoid the problems and help customers get more benefits.
Innovation
Our foundation comes mainly from our successful research on the new products. We always look on the world with a new perspective, and never follow rules docilely. Innovation is our drive of development. Our innovation somehow comes from the suggestions given by our customers. We work closely with our customers and try to meet their requirements. Without any limitation of our work, we are used to this way to surpass ourselves and keep sustainable development.