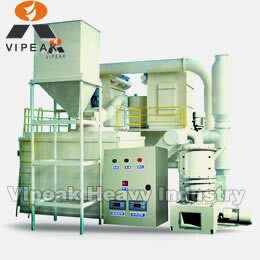 On basis of many times experiments and improvement, introducing the latest mechanical techniques of Sweden , High Pressure Micropowder Grinding Mill, the latest industrial micro-powder grinding mill, is a new type grinding machine for producing micro-powder.

Note: When users grind the material that hardness degree is between 4 and 6, the service life of the wearing parts will be shortened.

High Pressure Micro-powder Grinding Mill can grind calcite, limestone, calcite, dolomite, kaolin, bentonite, talc, illite, pyrophillite, barite, meerschaum, fluorite, potash ore and other more than 200 kinds of materials that Moh's hardness is below 6, non-explosive, non-flammable minerals.

Features of High Pressure Micropowder Grinding Mill:
★ Energy-saving
★ Wide Application Range
★ Good craftmanship
★ Powder Fineness: <6.5um~<12.5 um
★ Three-dimensional structure
★ Centralized control for the electric system, convenient to operate.

Model
YGM7826
YGM8327
YGM9531
No.of Roller (Pcs)
3
3
4
Diameter of Roller (mm)
Ф260
Ф270
Ф310
Diameter of Ring (mm)
Ф780
Ф830
Ф950
Speed of Main Mill (r/min)
160
140
130
Max Feeding Size (mm)
<20
<20
<20
Capacity (kg/h)
25-500
30-680
150-1000
Motor Model and Power of Main Mill (kw)
Y225M-8-18.5
Y225M-8-22
Y225S-4-37
Motor Model and Power of Air Blower (kw)
Y160L-4-15
Y180M-4-18.5
Y200L-4-30
Motor Model and Power of Classifier (kw)
Y160M-6-7.5
Y160M-6-7.5
Y160M-6-7.5
Total Power (kw)
41
48
74.5
Dimension (L×W×H) (m)
4.5 × 4.2 × 5.1
5.3 × 4.1 × 5.2
7.1 × 5.9 × 7.9
Weight (t)
4.8
6
11.5
Output Size
500 mesh (0.025)—1250 mesh (0.01) the finest 2500 mesh (0.005)